Flat Roofing and Pond Lining

We are based in Newport, South Wales and Fibreglass Flat roofing is about 75% of our business. We also install Pond Lining, Gutter lining & Tank lining as well as offering many other on-site fibreglass applications. Our durable fibreglass systems can be applied to new or old buildings, providing a permanent, one piece, watertight finish, and are produced from the highest quality materials. Our fibreglass systems are completely seamless - even in such areas as outlets, skylights and other protrusions. All our Fibreglass systems have excellent performance under all climatic conditions and are suitable for flat roof extensions, dormer windows and balconies (foot traffic is no problem!) Also, unlike most flat roofs, our fibreglass flat roof systems are very strong, versatile, maintenance free and aesthetically pleasing.
Fibreglass Systems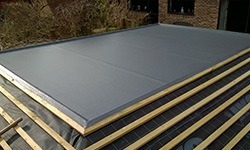 With well over 30 years experience, we know how to complete a top quality fibreglass roof, pond lining or gutter lining. All our Fibreglass Systems will last a lifetime.
GRP (Glass Reinforced Plastic) is another name for fibreglass or glass fibre and is a mixture of polyester resin and glass chopped strands. These glass fibres come on a large roll, which is cut to size and impregnated into the resin for reinforcement. The reinforcement matt comes in different thicknesses measured in weight. A lot of companies only use 450gm/mtr.sq fibreglass systems, but we like to use between 600gm/mtr.sq and up to 900gm/mtr.sq, depending on the application and requirement of each flat roof, pond lining, wet room, etc.
When the resin has cured we apply a pigmented polyester formula topcoat to all the laminated surfaces; this gives the roof a smooth impervious finish. This "flocoat" can be any colour and contains a wax solution which repels water and helps prevent algae build up. A non slip additive can also introduced at this stage if needed. Our Fibreglass systems can be also be used for wet rooms, tank lining and in situ GRP weathering !

Fibreglass Pond Lining
Pond Lining and other GRP projects fill the other 25% of our time, energy and skills, producing quality fibreglass products specifically meeting the clients requirements, in many fields of work and design. We offer a full service in anything that could be made with Glass Reinforced Plastic (G.R.P). If you have an idea and want to proceed with it, from flat roofing to bespoke Stage Props, Koi carp Pond Lining to Tank Lining, glass fibre could be the answer.
All our work, be it flat roofing, pond lining or valley gutter lining, is carried out by ourselves; we never use contractors. Fibreglass flat roofing, pond lining or any of the services we offer should never be attempted if the surface is damp or if there is any chance of rain. Contractors can't be trusted to follow this rule, we can, and we want your Fibreglass to last a lifetime. All our Fibreglass systems should last a very, very long time.

We always endeavour to maintain a professional yet friendly service, whether dealing with a client, supplying a quote or simply providing information.
We are not a large company
We are not a large company and can offer you a "Truly Great Service with Quality Fibreglass as Standard" All our roofing carries an Insurance backed Guarantee.
We have removed plenty of Flat Roofs (laid by other roofers) which have failed after less than 5 years - flat roofs which have been laid in the wrong conditions, by people that don't understand just how important it is to get a flat roof done correctly or maybe installed by people who just don't care. We have a reputation second to none and can supply you with references if required. We contract and install our fibreglass systems to some of the most reputable building companies in South Wales and we offer a full guarantee with all our work. For your assurance our guarantee is covered and stands alongside an insurance backed guarantee supplied by "Quality Assured National Warranties" (QANW)
South Wales
If you have a new Fibreglass Flat roofing project or require a Fibreglass Pond lining you have found the right website. We will always endeavour to complete any fibreglass project to the highest standard, whether domestic or commercial. Please contact us; distance is no problem. We cover Newport, Cardiff, Monmouth, Abergavenny, Caldicot, Lydney, Bath, Bristol and Chepstow; all of South Wales and much further afield.
We install Flat Roofing in Cardiff, Flat Roofing in Penarth and Flat Roofing, Pond Lining & Gutter Lining in Chepstow. We carry out Flat Roofing repairs in Newport, Flat Roofing in Monmouth and Flat Roofing in Abergavenny. We install GRP Pond Lining and GRP Flat roofing in South Wales. We are based in Newport and we install our Fibreglass Systems throughout South Wales, the South West & also the surrounding areas.

Follow us on social media for regular updates: